The following plays can currently be booked as mobile productions:
Verwandelt! (for people from 3 years of age)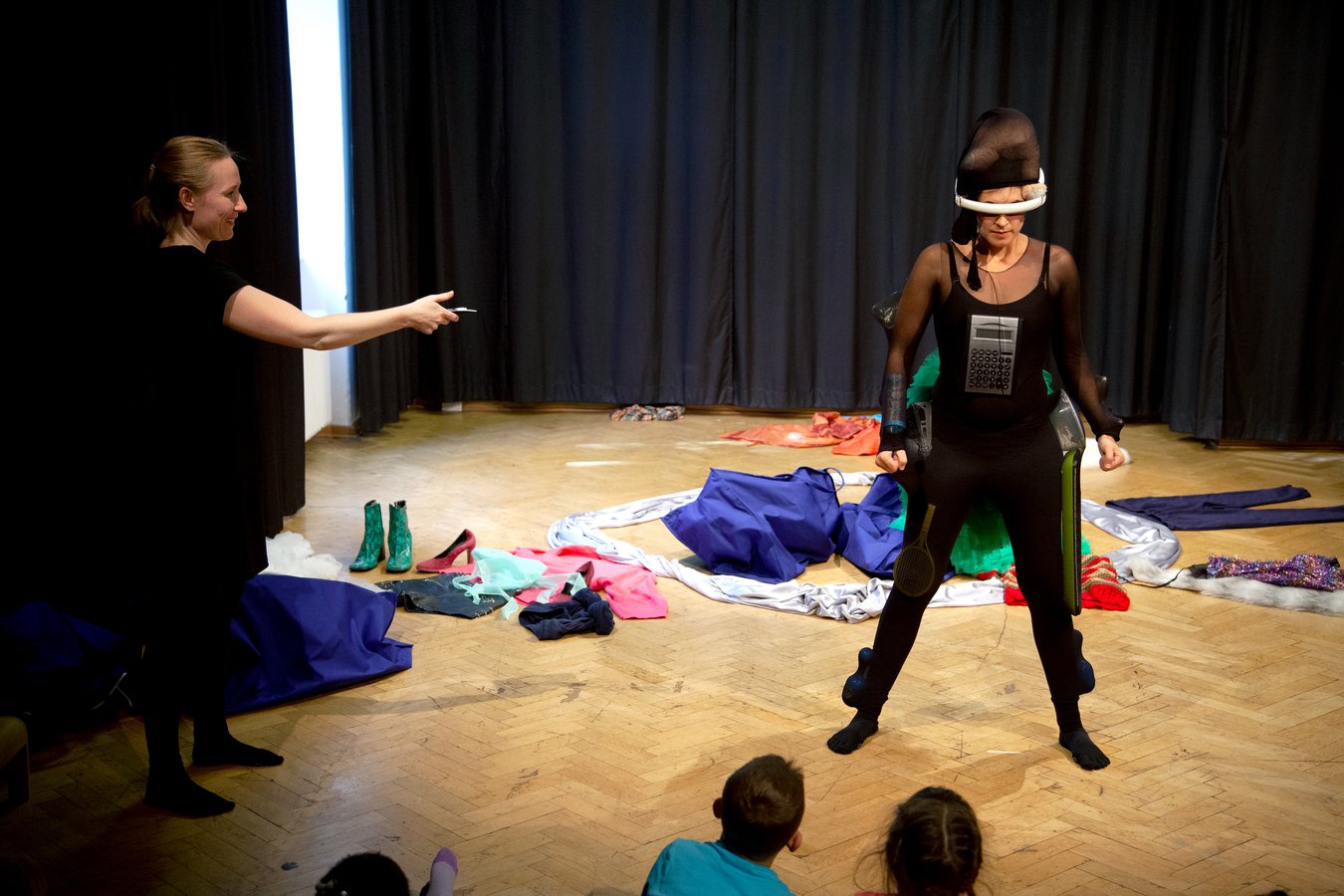 All over the world we are surrounded by transformations. Plants, animals and people are being transformed, as are cities, rivers and mountains. Tadpoles turn into frogs, caterpillars into butterflies, mussels into sand, wood into coal, water into ice. Some transformations happen by themselves, whether we like it or not. People also change throughout their lives. We grow, our teeth fall out, we become bald and wrinkled. Depending on how we feel, something changes in us. We make other changes ourselves. At the carnival, for fun or in the theatre, we slip into roles and actively decide on the transformation with a mask and costume. And again and again we change things in the game in terms of form and function. A cardboard box can become a boat, a skirt a flower, a scarf a snake.

With an inquiring gesture, we want to explore and question the facets of transformation using everyday materials. It is the first research theatre production by GRIPS with a TuKiBühne, which is based on a long research with kindergarten children. The mobile play will not only be performed in the theatre, but above all in day-care centres in various locations around the city and will involve the young audience members in a sensual, interactive form of theatre.
Bags in the Wind – A rubbish theatre play in the classroom (for people aged 9 and over)
They carry our shopping home. They then end up in the rubbish. They fly through the area, litter cities, countries and oceans. Animals mistake them for food. They land on our plates with the fish: Plastic bags!

Three documentary filmmakers go on the trail of the bags. When they visited the class, they brought along excerpts from their current film project and wanted to hear and record the opinions of the pupils. But strangely, things are going differently than planned.
Without the support of the children, the whole project threatens to fail. A fast-paced rubbish play on the global flood of bags and the question of whether a life without plastic bags is still possible.